Please try this:
Open Internet Explorer.
From the Tools menu, click Internet Options.
In the Internet Options dialog box, click the Advanced tab.
Check "Allow active content to run in files on My Computer".
Click OK.
didn't work! internet option is ok …what's the problem?
Does it happen only in the Skatter window, or also the window of other extensions?
In my case, the tool didn't generate any geometry. I'm frustrated.
Yes, Strange thing happened to some other extensions!
like this one…when I press its button (Fur Tools extension) these codes show up!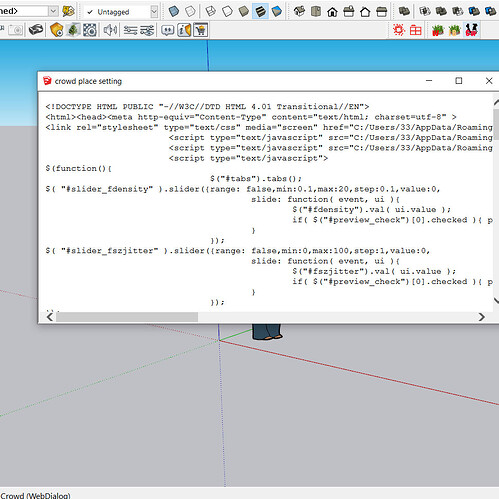 Hi, is there an solution for the Problem? I just switched from V-Ray to Enscape (trial period) and our office maybe will switch. But with this bug, skatter is difficult to use. Would be wonderful if you could patch this. Is this issu new with the Update 2.8? Best regards from Germany
yep same issue here, also the laubwrek plant kit has this issue. I thougth its something with SketchUp web browsing thing. I even changed my browser for this… no fix…
but found something here, https://forum.enscape3d.com/index.php?thread/8092-enscape-installation-causes-sketchup-plugins-to-display-a-security-warning/&postID=40887
I disabled the enscape3d and it worked… pretty neat…

just re-enable escape while using it… bye