Some users report that they encounter this error message after updating Skatter to a newer version.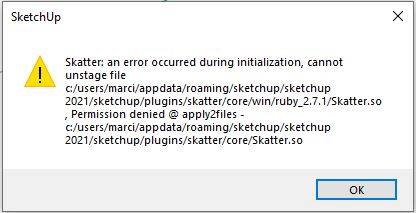 This seems to be caused by the SketchUp process locking some of Skatter's files even after SketchUp is restarted.
For the moment, it is unclear how we can prevent that error.
In the meantime, if this happens to you, please try those steps:
Manually end the zombie "SketchUp Application" process (using the Task Manager on Windows, with Ctrl+Alt+Del) and then restart SketchUp
If this doesn't solve the issue, restart the computer
This usually solves the problem.