SketchUp version : 2015
Skatter version : 1.04
OS : OSX 10.11.4
Description of the issue : Im trying to add branches to a cylinder shape which is bent. Im having a hard time using points set, a lot of times i dont see the cursor apear. I then draw a rectangle so after a couple clicks i see the blue cursor, indicated it active. When i click and add points and use Pointing under distribution the the normals point inwards while the face is pointing outwards.
Ive double checked it by reversing the faces, in the second image you see the points sets do point outwords
Are you able to reproduce the issue every time? (If yes, how?) : Yes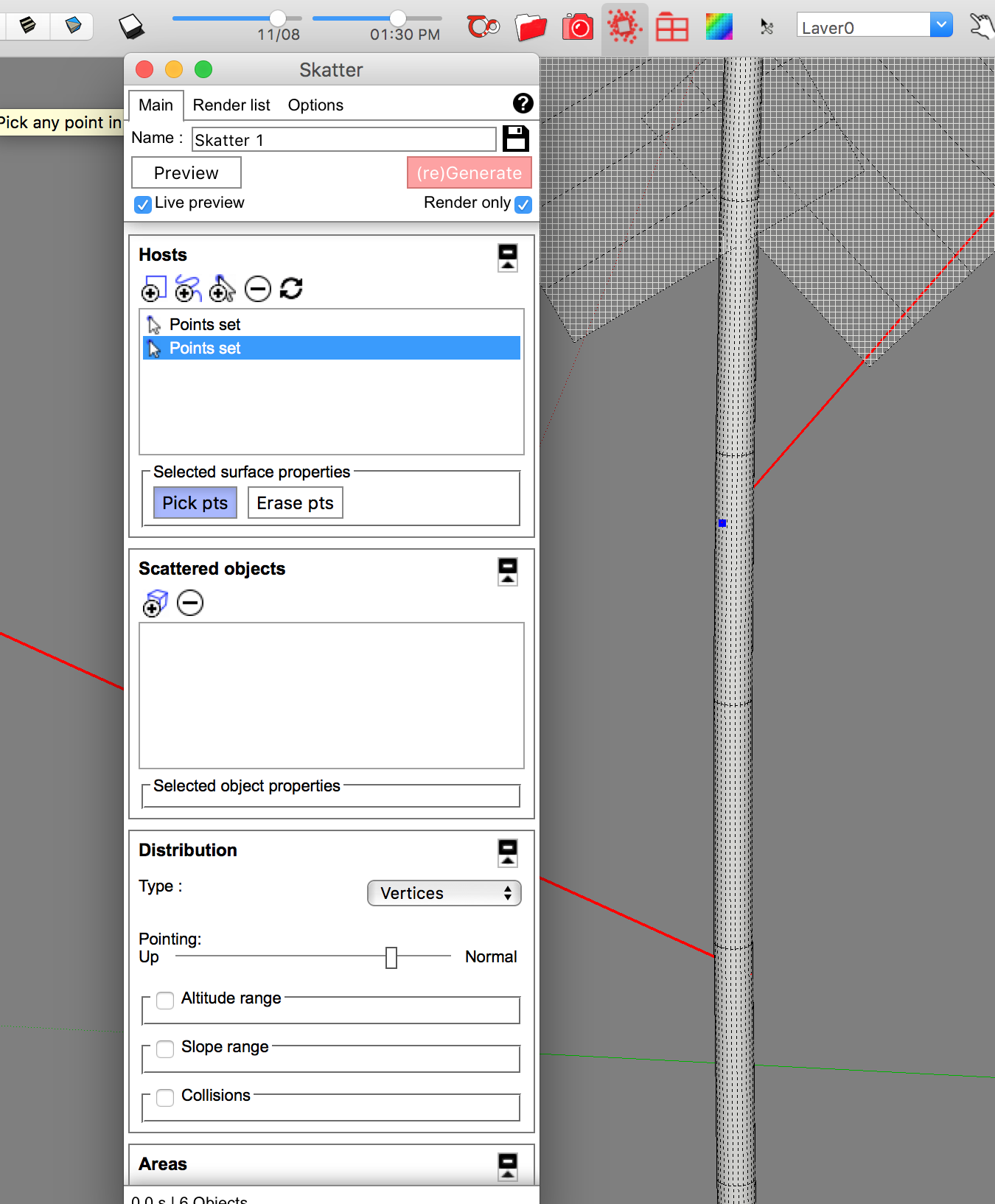 In adition, when i press generate i get this error in the console
---- Skatter ----
Processing point set 5200a599-ee67-411b-add3-97fe7424dc9b
Number of points in set : 1
---
Generate bounding boxes & transformations : 0.000159 s
Error: #<NoMethodError: undefined method 

entities' for #<Sketchup::ComponentInstance:0x007f892c49a090>>
/Library/Application Support/SketchUp 2015/SketchUp/Plugins/jbb_skatter/rb/generate_objects.rb:51:in generate' /Library/Application Support/SketchUp 2015/SketchUp/Plugins/jbb_skatter/rb/dialog.rb:286:in block in start_dialog'
/Library/Application Support/SketchUp 2015/SketchUp/Plugins/jbb_skatter/rb/dialog.rb:20:in call' /Library/Application Support/SketchUp 2015/SketchUp/Plugins/jbb_skatter/rb/dialog.rb:20:in block in add_bridge_callback'
SketchUp:1:in call' Total number of points : 1 View redraw : 0.071377 s Total : 0.077798 s ------ End ------