Hi there,
I am looking for some information/suggestions on Skatter Workflows. I use Skatter quite a bit, but for basic grass setup. Some of the projects I have been working on lately have a need for more elaborate environment and I feel a little lost when it comes to achieving a complex Skatter setup. Is there a good workflow/organization method for this? Here is an image of a recent project I did: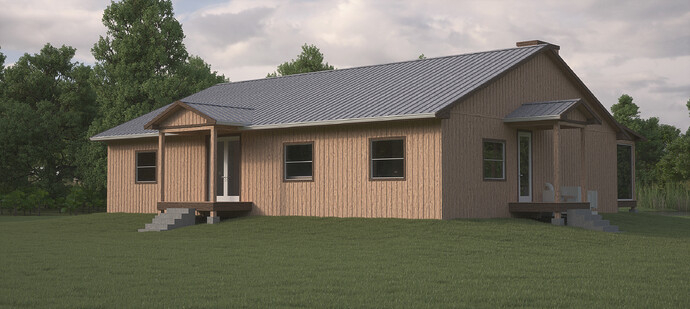 I ran out of time playing with the settings and had to revert to doing just do this basic UNIFORM grass setup. This is how 90% of my renders turn out and it kills me. I wanted to have taller grass in some areas near the house and to have areas that fade out into dirt (under the porch) and a dirt trail driveway leading up to the house. I wanted a more natural look overall but just ran out of time. I feel like I can never achieve this.
All that being said, I would love any videos, articles, tutorial write-ups, or any suggestions on how to take my Skatter skills to the next level. Sorry for the long post. Thanks in advance.